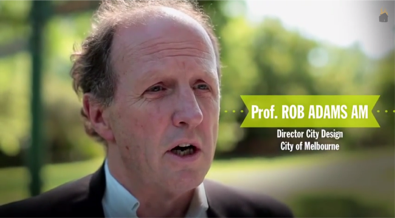 Off-camera means you're talking directly to the interviewer whilst being filmed – rather than looking down the barrel of the lens. It provides the opportunity to capture information in a more relaxed manner, as opposed to reading from a script.
This technique is designed to make you feel more comfortable, as you're having a conversation with a fellow human rather than a camera, which lends itself to a more authentic feeling narrative. This interview style is commonly used in programs such as ABC's Australian Story or Xero's Customer Stories.
The off-camera conversation with the interviewee typically lasts around 30 minutes. We ask a variety of questions designed specifically to elicit the information we know we need to capture (this information is agreed as part of the pre-production process). The responses are then cut together in the edit suite to deliver a cohesive narrative, which is accompanied by overlay or b-roll –  illustrative footage that provides context and interest.
We will give you a call in advance of the interview to discuss what we are aiming to capture, to talk you through the process and to settle any nerves you may have. Remember – we're having a conversation about a subject that you know well.
Here's our top 5 tips to keep in mind when being filmed in an off-camera interview:
Wear clothing that makes you feel good about yourself and is representative of your profession – however avoid wearing fine striped or checked patterned clothing. It's handy to bring a back-up outfit with you.
Be mindful of your body language as the camera exaggerates everything. Keep your shoulders back, chest open and find a position for your hands so they're not distracting. Crossing your arms, slouching or jiggling your legs can indicate to the viewer that you're closed off, nervous or have lost interest.
Paraphrase the question as part of your response. As the interviewer is being cut out of the edit, it's helpful to include the question in your response to provide the viewer with context
Slow down. We all have a tendency to rush when we feel nervous or the spotlight is on us. Remember you're having a conversation with the interviewer so be simple, clear and concise rather than wordy and convoluted responses.
Remember… smile and relax, we're here to make you look good!
…And we have the luxury of the edit suite!